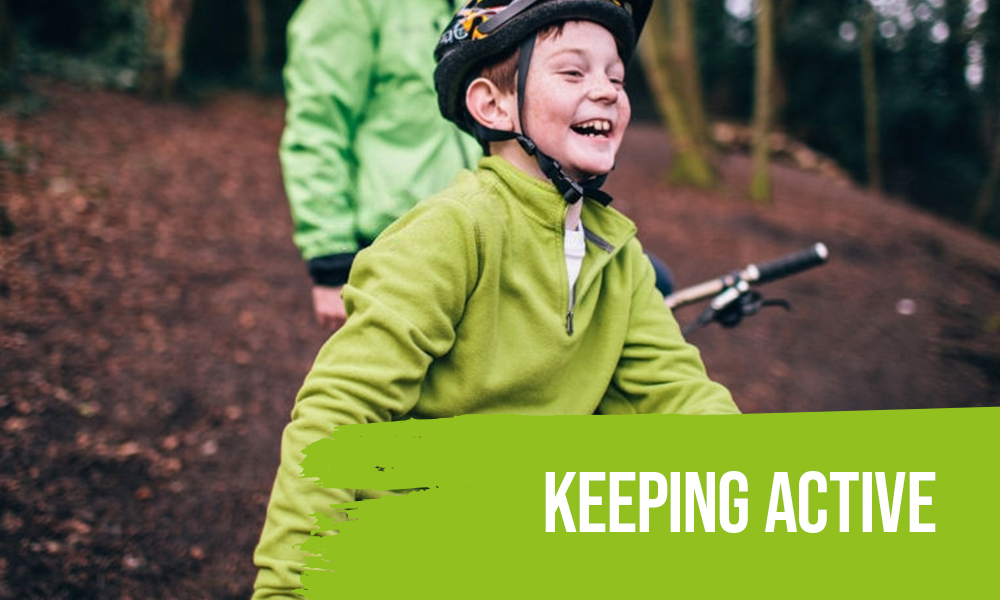 Even during the winter, it is important to stay physically active which contributes to our mental health and wellbeing. The healthy benefits of staying active and maintaining your fitness levels will contribute greatly to your overall health.
Sport and Physical Activity
Get Active for Your Wellbeing' Webinar
HSE Health and Wellbeing are hosting 'Get Active for Your Wellbeing' Webinar on Wednesday May 5th at 2pm-3pm. Register Here
This upcoming webinar will focus on supporting people on how to build physical activity into daily life.
Join us and hear from our special guest  3 time Olympian Derval O'Rourke. Derval will talk about what she has learned and ways to improve your health and wellbeing through exercise.  We will also have input from HSE colleagues highlighting ways and opportunities to get active for your wellbeing.
The webinar will also showcase the new FREE HSE Health and Wellbeing online exercise programmes. We are launching the first 8 'Pilates for beginners' videos on the 5th May, which will be followed by Yoga, Strength and Conditioning and Chair Based Exercise videos.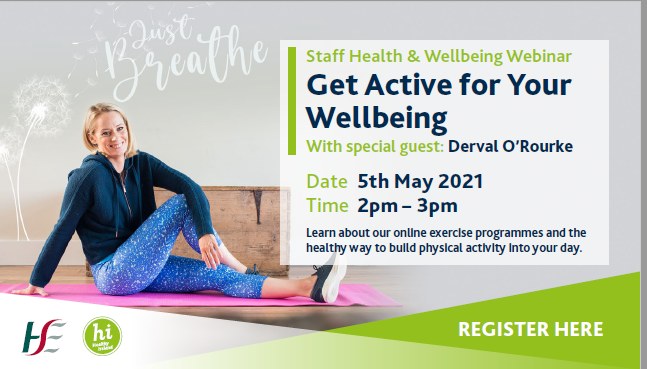 March 100km Walk or Run Challenge
Walk or Run 100km during the month of March and be in with the chance to win the latest Fitbit Sense. This is a great way challenge to get all the family involved in or why don't you challenge your friends.  A small gift will be sent out to everyone who completes 100km.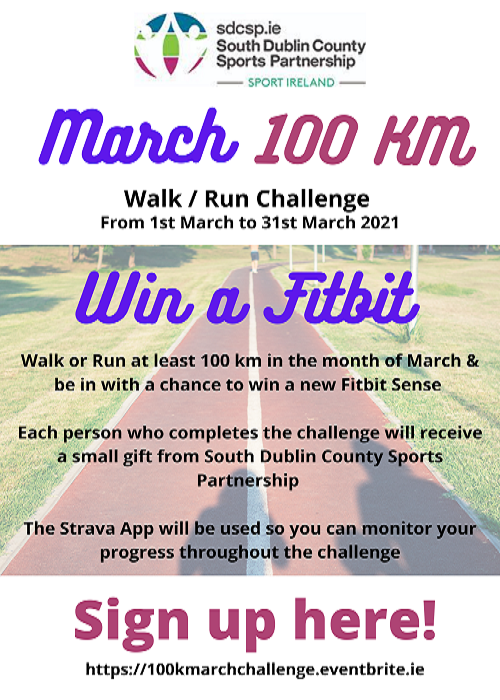 Sign up:https://100kmarchchallenge.eventbrite.ie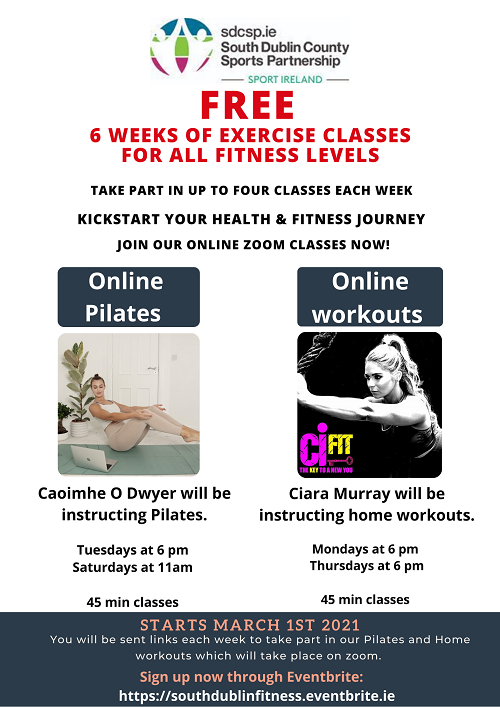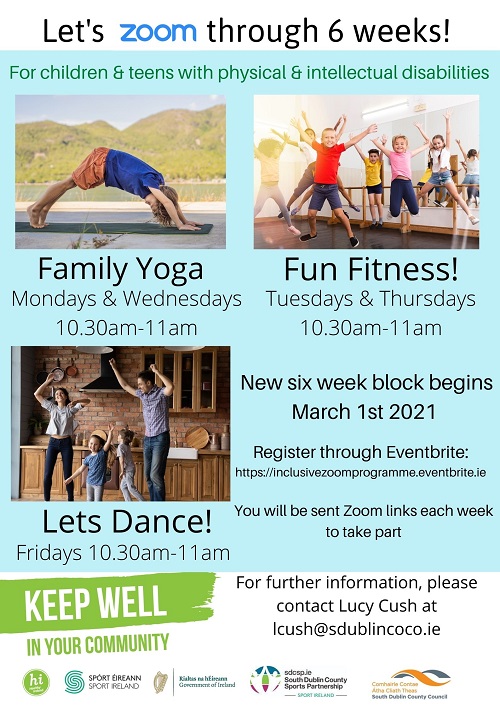 Siel Bleu
 Siel Bleu At Home is designed to keep people exercising from the comfort of their own home which is led by an experienced Siel Bleu Ireland Physical Trainer. This 8 week course will run through all components of fitness including strength, balance and aerobic exercises while being inclusive as possible to individual abilities. Seated and standing adaptations will be available so each person can work to their individual fitness level. The Siel Bleu Trainer will be demonstrating safe and effective exercises for you to follow using very limited equipment which you can find in your own homes.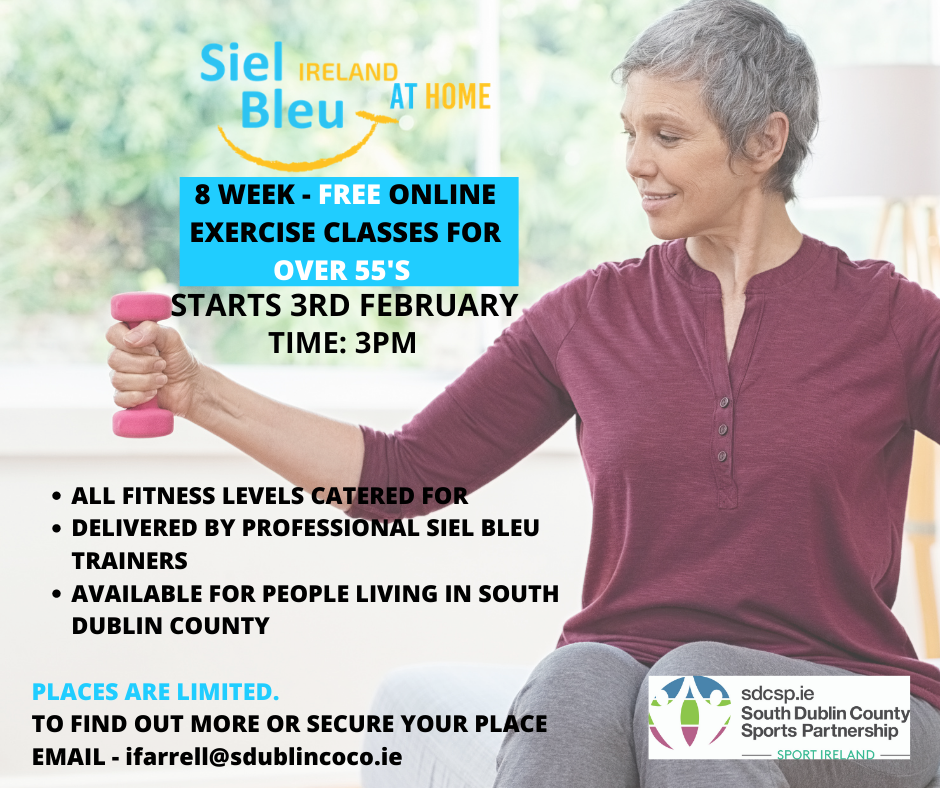 The Mobile Music Machine tours to residential care homes
The 'Mobile Music Machine' a classical string ensemble are on tour this week across the county, providing a series of twelve concerts outside residential healthcare settings. Performances will take place in Lucan, Firhouse, Citywise, Rathcoole, Cappagh, Kiltipper, Palmerstown, Templeogue and Newcastle.
This is the second tour of the county undertaken since November 2020 with funding under the Creative Ireland programme.
The current programme, which is funded Healthy Ireland Fund Sláintecare Community Resilience Fund runs from Monday, 8th of March to Saturday, 11th of March .
PERFORMERS:
Sandra Oman, soprano Anthony Kearns, tenor Lynda O'Connor, violin Andreea Banciu, viola Gerald Peregrine, cello
MONDAY, 8 MARCH, 2021 11am TLC Citywest 2.30pm Griffeen Valley Nursing Home, Lucan.. TUESDAY, 9 MARCH, 2021 11am Marymount Care Centre, Lucan, Co. Dublin. 2.30pm Sallypark Nursing Home, Firhouse, D24..
WEDNESDAY, 10 MARCH, 2021 11am Lisheen Nursing Home, Rathcoole 2.30pm Padre Pio Nursing Home, Cappagh
FRIDAY, 12 MARCH, 2021 11am Stewarts Care, Palmerstown 2.30pm Cheeverstown House Residential Services, Templeogue
SATURDAY, 13 MARCH, 2021 Performers: The Larkfield Quintet
2.15pm Peamount Hospital Unit 1 3.15pm Peamount Hospital Unit 2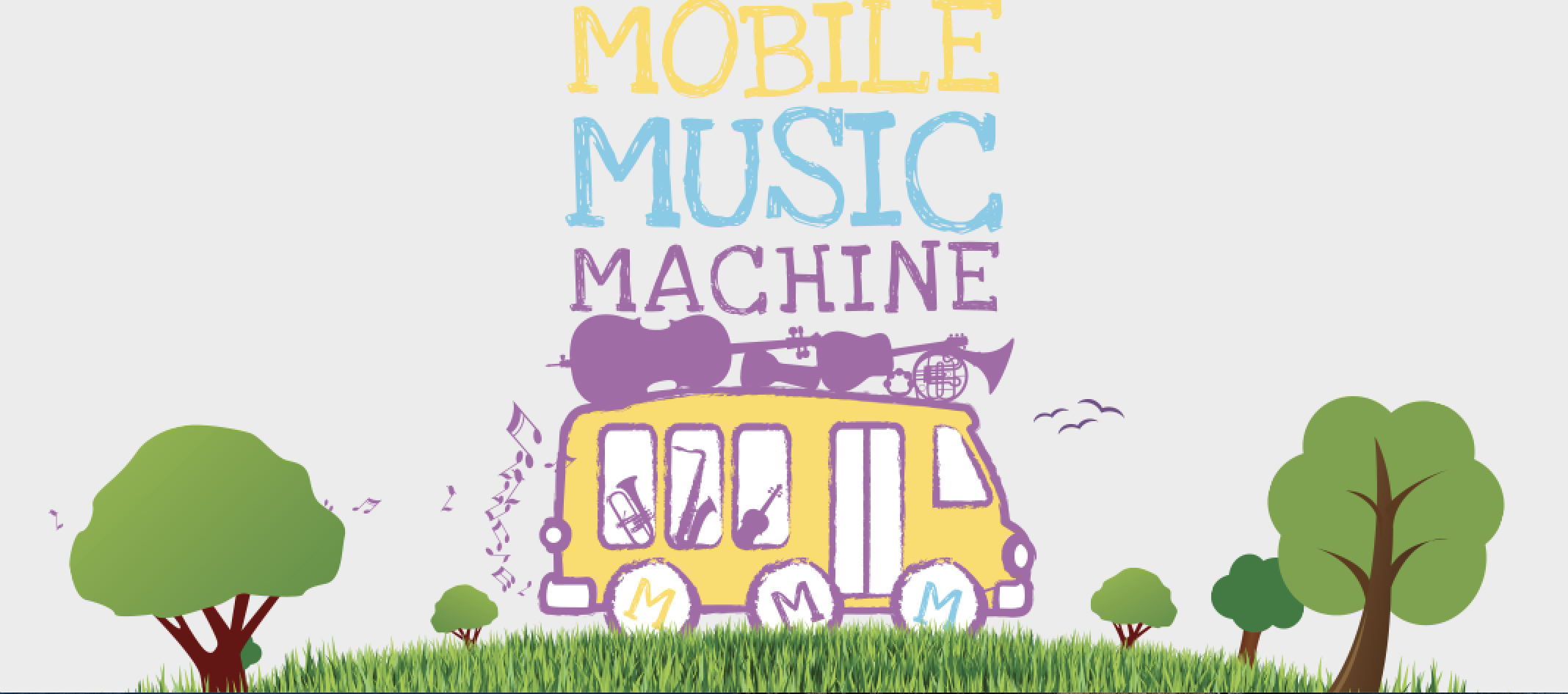 MarathonFamilies
A new year & new beginning – let's just focus on you.
MarathonFamilies will give you the motivation and the purpose to keep going for another phase of Lockdown.  It will give you the reason to go for another walk or another run, or just start over.
Family constitutes – you & family member, or you on your own, you can walk with a friend or with your dog, walk with someone from your bubble
Operation Transformation
As you step into the New Year and thinking about fresh resolutions,  Healthy Ireland is again joining up with RTE's Operation Transformation (OT) television programme for 2021. Click on the link below for details.    
Active Men
Active Men – South Dublin County Sports Partnership is running a free online conditioning course for men on Mondays, Wednesdays and Fridays at 12 noon.
Classes are found on the South Dublin County Sports Partnership Facebook page.
You can also follow the South Dublin County Sports Partnership on Instagramand Twitter.
Home exercises for older people – let's get moving again
Download the HSE Keeping Active – Older People brochure.
Physical activity does not have to be strenuous. The level best suited for older people is described as 'moderate intensity', practised for at least 30 minutes on five or more days of every week.
Visit the Keeping Active site on HSE.ie.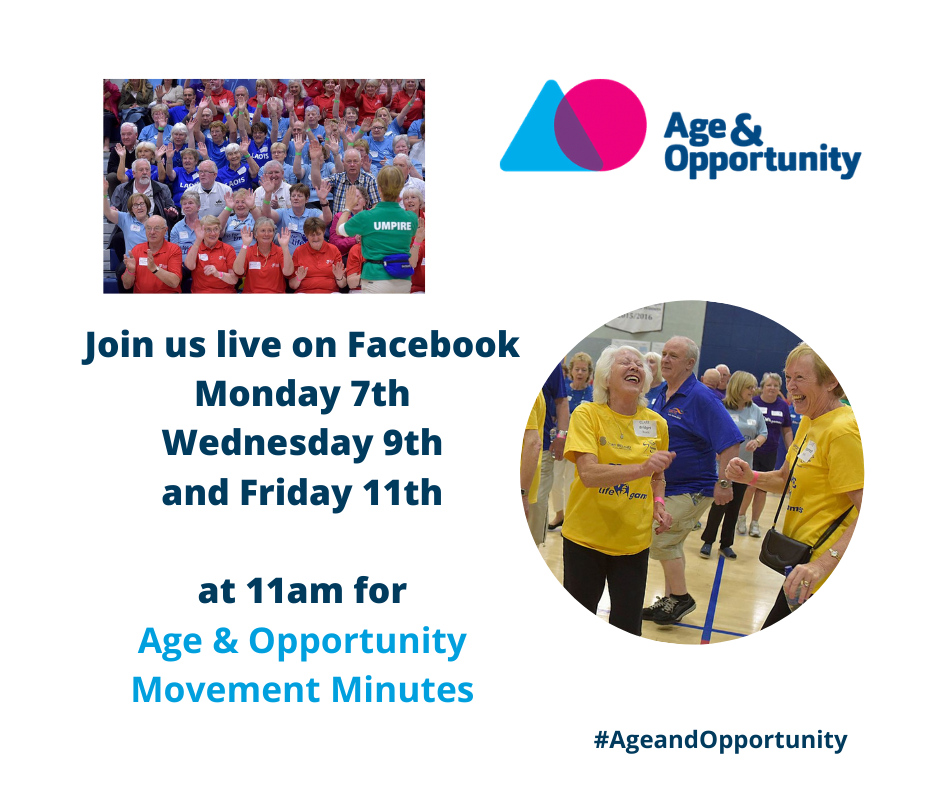 Let's Walk…..
Marathon Families" – is a walking challenge – that you can do anytime, anywhere – even within a 5km radius of home.
Don't be put off by the distance – you are well able – its not a race – do it in your own time – it might only take you 10 walks!
Family constitutes – you & family member, or you on your own, you can walk with a friend or with your dog, walk with someone from your bubble….
This challenge will give you the motivation and the purpose to keep going into the winter months. It will give you the reason to go for a walk or jog, or just start over.
So - participants will walk 42km to complete a marathon. Average walking guide is 4km per hour… if you can go faster – great. If you don't have a fancy gismo for measuring distance etc – work off this scale:
4km = 1 hour of walking OR 2km = 30min of walking
· Put on a pair of runners and get walking (or jog if you fancy)
· Keep a Record of your distance walked
· Target is 42km to Cross the Finishing Line
· Ring – Paula Swayne 086-8292443 or Ciaran Farrelly 086-4649504 once completed
· And we'll send you a medal for completing the MARATHON
South Dublin Parks
Public Realm are delighted to announce that Corkagh Playground has now reopened.  The new playground based on the heritage of Clondalkin (including Vikings and a high tower) has been renovated.
The playground features lots of new equipment including  a variety of swings, slides, ziplines, sand and water play areas, willow huts and lots of accessible equipment.  You may want to bring wellies for the sand and water areas.
Some images of the newly opened park are below

Throughout South Dublin County you will find a huge variety of parks and beautifully manicured gardens
If you want to just stop and smell the flowers, spend quality time as a family, enjoy long walks or build up a sweat on the running track, the parks of South Dublin County will meet your needs.
Click here to get details of our all our park locations
https://www.dublinsoutdoors.ie/visit/our-parks/

Keep Well - let's Get Ireland Walking into 2021
New Keep Well Walking Challenge launched to encourage people to walk for 30 minutes every day for three weeks
The Keep Well campaign is aimed at showing people of all ages how we can mind our own physical and mental health and wellbeing by adding healthy and helpful habits to our daily and weekly routine.
Sport Ireland, Get Ireland Walking and Healthy Ireland are encouraging people of all ages to walk into 2021 by taking part in the Keep Well Walking Challenge, which gets underway today.
Walking is the most accessible form of physical activity with no special equipment or locations required. Sport Ireland, Get Ireland Walking and Healthy Ireland are looking to get as many people as possible out and active for at least 30 minutes a day for the remaining 21 days of December, bringing a healthy habit forward to the New Year.
To support this, Get Ireland Walking has produced a new app that will allow users to keep a record of their walking and help all participants to stay motivated. The handy app will provide useful tips on advice on how to build walking into every day routines. It can be downloaded at https://www.getirelandwalking.ie/app/
As part of the 21-day campaign, well-known people from across Ireland will share their favourite walk of 2020, whether it is a socially distanced walk with a loved-one or simply a lunchtime escape from the bedroom office.