South Dublin Libraries is delighted to present a series of talks on the topic of Neurodiversity.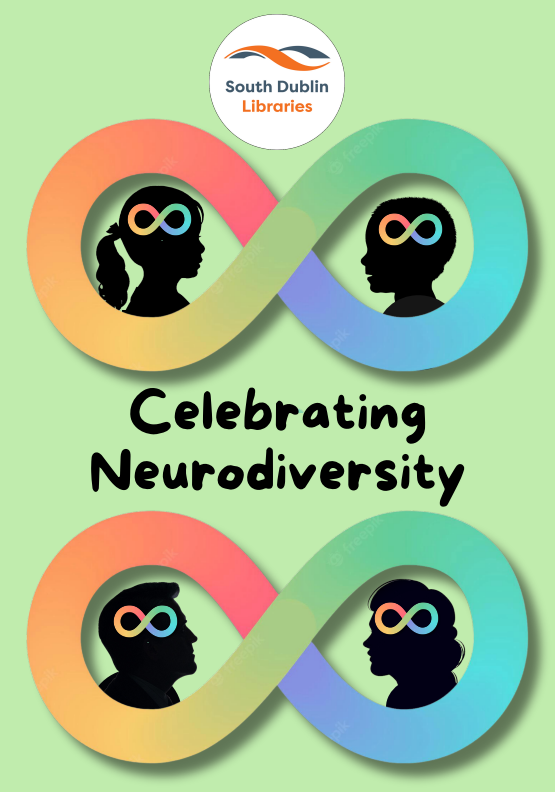 Upcoming events:
Tuesday 28th November, 6:30pm, Tallaght Library
Autism and Girls with Fiona Ferris of AsIAm
Fiona will speak about Autism in girls and women, and why it is difficult for girls to be diagnosed. She will cover a range of topics including typical female presentation, puberty and periods, disordered eating, masking and late diagnosis. Booking advised here. (Please note this is a rearranged date)
Wednesday 8th November at 6:30pm, Ballyroan Library 
Autism and Teens with Zarah Doyle from AsIAm
This talk will explore:
Autistic Culture – strengths and challenges
Minding mental health
Self care: advocating for reasonable accommodations
Relationships and boundaries
Wednesday 22nd November at 6:30pm (postponed from 15th November), Clondalkin Library
Autism and Understanding with Zarah Doyle from AsIAm
This talk will cover:
What is Autism, and what is it not?
What is it like to be Autistic?
Communication, social and sensory differences.
Building inclusive communities.
Q&A
Monday 20th November, 7:00pm, online
Neuro-affirming Language and Advocacy with Jennifer Grundulis
Neurodiversity can be an emotive topic, with a lot of opinions involved. Preferred wordings change based on greater awareness of how neuro-diverse people wish to be addressed – which can change from culture to culture. Sometimes even health care professionals or teachers may not be aware of the evolving preferences. This is a talk for parents to help them understand this area, and how to helpfully start to advocate for their children.
Wednesday 29th November at 7:00pm, North Clondalkin Library
Balancing Sibling Needs with Zarah Doyle from AsIAm
This talk will cover:
Neurodiverse family lived experiences.
The impact of sibling relationships.
The role of parents.
Building confidence and self-esteem of siblings.
All talks are free and all are welcome – no booking necessary unless otherwise stated.
For the full programme of events, see the brochure. 
For more information on South Dublin Libraries' Neurodiversity services, see here.