LOTE4Kids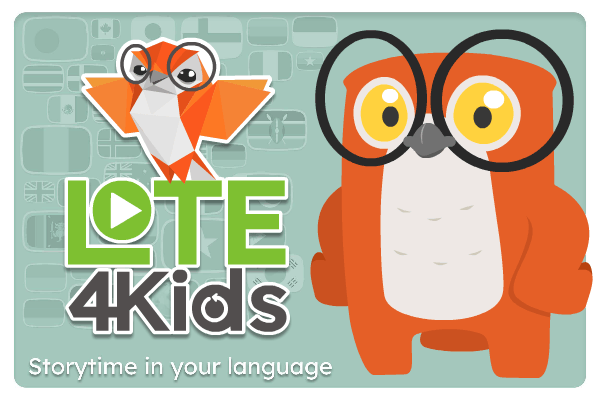 LOTE4Kids is our new online database of digital books in World Languages, that allows kids to enjoy the magic of books in LOTE (Languages Other Than English).
Each book also comes with English translations to help kids learn languages. LOTE4Kids has over 2,000+ digital picture books in 50+ languages, with new books and languages released each month – helping libraries to engage immigrant, refugee, and multilingual families in their communities.
iVox Books - books that move for kids

iVOX is a children's book app for ages 3-8, which engages and delights curious young minds with the latest in storytelling technology. - it is part eBook, part audiobook and part virtual pop-up. Children follow along with the exciting stories while interacting with 3D characters and scenes - immersed in the narrative like never before!
All you need is the iVOX app (available for iOS and Android), your South Dublin D4 library card number and PIN
To learn more about it, watch the video here
TumbleBooks

TumbleBooks is a curated database of children's eBooks, animated talking picture books, read-along books, National Geographic videos, Maths stories, graphic novels etc. You need your South Dublin Libraries card to use it. You also need to be connected to the internet or have Wi-Fi connectivity.
It is designed for use by younger children (3 - 7 years).
Please use Chrome for the best online experience of TumbleBooks.
TumbleBook Cloud Junior

TumbleBook Cloud Junior is an online collection of ebooks and read-along chapter books, non-fiction books, graphic novels, educational videos, and audio books! This database is a great option for adventurous young readers, designed specifically for kids aged 8 years and over.
BorrowBox for Children 

BorrowBox provide digital content for children. These titles are carefully chosen with out junior readers in mind.
It is best experienced via the app which you can download from the Apple or Android store. You will need a South Dublin library card and the PIN.
To see an example of titles in in stock, click on this link for junior eBook titles and eAudio titles.
Encyclopedia Britannica
For all your homework needs and projects!

The Online Library Edition includes the complete encyclopaedia with more than 72,000 searchable articles and related websites selected by Encyclopaedia Britannica Editors. The database is always kept up to date. You will need your South Dublin library card number to see the encyclopedia.
Click on the link below to gain access to the junior section or the student section depending on your age..