Childrens Services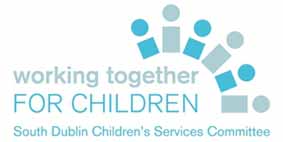 South Dublin Children's Services Committee
Who's involved?
Organisations represented on the Children's Services Committee at South Dublin include the HSE, South Dublin County Council (SDCC), National Educational Welfare Board (NEWB), County Dublin VEC, the Gardai and the Probation Services. Also included are: South Dublin Partnership, the Childhood Development Initiative (CDI), Barnardos, Lucena, and the Adelaide, Meath and National Children's Hospital (AMNCH) also know as Tallaght Hospital. A Children's Services Coordinator was identified from within existing resources at South Dublin Council and appointed to progress the development and work of the committee.
The work
Since 2007 the committee has been working towards creating a space in which agencies, engaged in service delivery to children, are facilitated to deliver integrated services and interventions for children in the South Dublin County Council administrative area. This has involved the development of a workplan. Six sub-groups operate to deliver the committee's work plan. In efforts to broaden expertise, each sub-group includes a wide number of managers and front-line practitioners from agencies who deliver services in the South Dublin area. Over 60 personnel were engaged in the initial workplan development under the headings; Interagency case work, Communications, Data and Planning, Education and Development, Safe and Secure, Child Welfare, Child Protection and Family Support and Participation. Each sub-group has developed a vision, a set of indicators and outcomes to enable work progression. These workplans have formed the basis of the committee's actions. Work has begun to develop the next phase of the committee's plan.
Some projects
The committee has developed a number of protocols to enable interagency working:
1. Data Sharing Protocol
To facilitate the legal, secure and confidential depersonalisation, analysis and sharing of information/data sets between public, private and voluntary sectors. Providing a spatial picture of life in the county, the protocol defines how personal and sensitive data will be provided to partners and methods used by SDCC to provide secure and legal management of the data
2. Critical Incident protocol
A critical incident is defined as any incident that challenges a local community's capacity to support children and their carers affected by events such as murder, suicide, extremely violent assault, witnessing or experiencing an incident involving firearms, sudden death in the public/community setting serious accidents, e.g. fire , drowning, road traffic accidents. The protocol is designed to facilitate a quick coordinated response by agencies to deal with such incidents supporting those affected. Two Critical Incident Management Teams have been established in the county led by the HSE Child and Family area managers
3. Sharing Information about children and families
Guidance for practitioners and managers. The protocol includes advice on the on information sharing, the legal framework, confidentiality and consent. The committee is working to promote the development of a national protocol on information sharing.
4. Working together – an interagency protocol – guidance on the provision of an integrated service for children 
This protocol is designed for frontline workers involved in cases where it is appropriate for more than one agency to undertake a significant level of work with a family. The purpose is to ensure that families receive an integrated support package which helps them address their needs in the most effective way. Since the publication of the protocol over 150 frontline staff have engaged in training on the implementation of the protocols
5. Alternative Response Model 
Children and families often have a range of complex needs which require help from a number of agencies simultaneously. SDCSC developed a model by which this can be managed and ran a pilot scheme for a year in Tallaght West. It involves the HSE and other agencies coming together when necessary to discuss family needs when appropriate and when required. The model is now being extended across Tallaght.
For further information about the CSC please contact: Patricia Wilson pwilson@sdublincoco.ie