News
Storm Callum Update
Storm Callum Update
South Dublin County Council Preparations
South Dublin County Council's (SDCC) Severe Weather Assessment Team met today at 11:00 am to ensure all preparations for Storm Callum and its aftermath are in place. 
This follows Met Éireann issuing a status orange weather warning for most coastal counties, including Dublin, which will remain in place overnight on Thursday and into Friday. Strong gales and heavy rain are expected to hit the South of Ireland by 10:00 pm on Thursday and should reach the greater Dublin area by midnight.
SDCC crews will be on call overnight but ongoing risk assessments will be carried out to ensure it is safe for our staff to go out during periods of strong winds and heavy rainfall. All crews are currently expected to be available from 7:00 am to begin the cleanup operation as winds are expected to begin to ease. This will be monitored throughout the night by Council staff and updates will be available through Met Éireann.
The Council's Severe Weather Assessment Team, made up of senior management from across each department, will be liaising with the National Directorate for Fire and Emergency Management (NDFEM) from early morning to assess the damage to the region. They will be on call during the night as well.
Our emergency contact number during the night is 01- 4574907. Please only use in case of emergency as we anticipate a high number of calls during the night.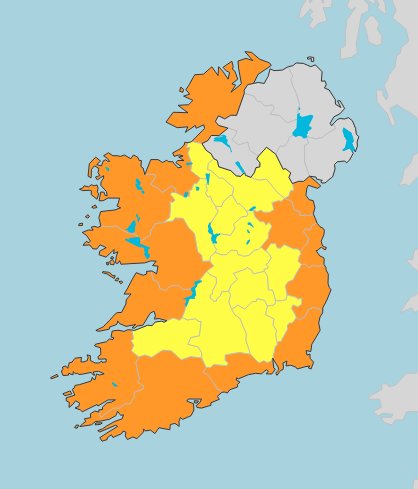 Citizen Advice
The Council would like to remind our citizens to store or disassemble garden/patio/balcony furniture and trampolines away before going to bed tonight. These can be turned into dangerous objects by strong winds and could cause significant damage to your and your neighbour's properties. We would also ask that you check on elderly or vulnerable neighbours this evening.
The Dublin Fire Brigade has advised against using real candles tonight and have also asked people to charge devices such as mobile phones or laptops in preparation of any power outages.
ESB Network's safety advice in the event of faults is to never approach or touch fallen electricity wires. It asks citizens to call its emergency service immediately on 1850 372 999.
The Dublin Regional Homeless Executive also have a facility for the public to report rough sleeping at www.homeless.ie/report-rough-sleeper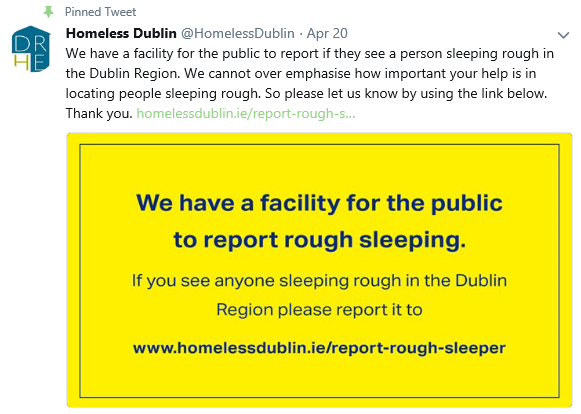 Road Safety Authority Advice
The Road Safety Authority (RSA) has urged road users to exercise extreme caution when using the roads on Thursday night and Friday morning. Drivers are advised never to attempt to drive through flooded roads and to heed any warnings of detours that are in place.
The RSA is also calling on road users to beware of objects being blown out onto the road; to watch out for fallen debris on the road and vehicles veering across the road; to be aware that control of a vehicle may be affected by strong crosswinds; to allow extra space between vehicles and vulnerable road users such as cyclists and motorcyclists and to drive with dipped headlights at all times.
Pedestrians, cyclists and motorcyclists are advised to wear bright clothing with reflective armbands or a reflective belt and to take extra care when crossing the road or cycling as a strong gust of wind could blow them into the path of an oncoming vehicle.
Emergency Contact Numbers
South Dublin County Council - 01 414 9000
South Dublin County Council Out of Hours (After 5 pm) Number  - 01 457 4907
Fire Service - 999 or 112
Irish Coast Guard - 01 678 3454
Dublin Mountain Rescue - 01 662 0922
National Roads Authority - 01 660 2511
ESB - 1850 372 999
Garda Stations in South Dublin County
Clondalkin - 01 666 7600
Lucan - 01 666 7300
Rathcoole - 01 666 7900 
Rathfarnham - 01 666 6500 
Ronanstown - 01 666 7700 
Tallaght - 01 666 6017
Twitter Accounts to Follow for Updates
South Dublin County Council - @sdublincoco
Office of Emergency Planning - @emergencyie
An Garda Síochána  - @GardaTraffic
Dublin Fire Brigade - @DubFireBrigade
Road Safety Authority - @RSAIreland
Transport Authority Ireland - @TFIUpdates
ESB Networks - @ESBNetworks
Met Éireann - @MetEireann
RTE News - @rtenews