News
Six SDCC Projects Nominated for Local Government Awards
Six South Dublin County Council Projects Nominated for Local Government Awards
The Round Tower in Clondalkin and MedEx Health Programme are among six South Dublin County Council initiatives shortlisted for this year's Chambers Ireland Excellence in Local Government Awards.
The Chambers Ireland Excellence in Local Government Awards is held annually in association with the Department of Housing, Planning and Local Government. First held in 2004, the awards showcase best practice in local government and recognises innovation and dedication within the sector.  The upcoming ceremony will take place on Thursday, 22nd November in the Crowne Plaza Hotel, Northwood Park, Dublin 9.
At the 2017 event, South Dublin County Council were awarded the Best Practice in Citizen Engagement for its landmark participatory budgeting initiative, €300k Have Your Say.
This year, six South Dublin County Council initiatives have been shortlisted in separate categories.
The Round Tower, Clondalkin is shortlisted for Heritage and Built Environment.
The 7th Century Round Tower, located at the heart of Clondalkin Village, is among the best preserved Round Towers in Ireland. The Visitor Centre was conceived by South Dublin County Council in collaboration with the Office of Public Works and the local community to celebrate the Tower and to respond to the history of the site. The centre comprises the conservation and refurbishment of five derelict 19th Century Mill Cottages with a modern extension to the rear, new gardens to the front and rear and with a new civic plaza to re-engage the site with its historic core.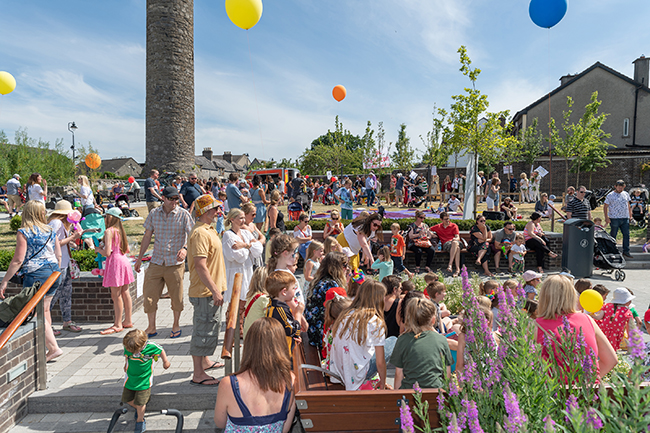 MedEx Health Programme is shortlisted for Health and Wellbeing.
MedEx Health Programme is a community based chronic illness rehabilitation programme that offers structured and supervised exercise classes to enable people with a diverse range of illnesses to exercise in a safe environment in order to maintain or gain fitness during or after treatment. 
Flavours of South Dublin Food Festival 2017 is shortlisted for Festival of the Year.
The Flavours of South Dublin Food Festival took place in the grounds of Rathfarnham Castle and is a unique food festival that showcases the very best cuisine from the locality whilst aiming to highlight the diversity and vibrancy of the food culture in the county. 
'Living With Trees' South Dublin County Council's Tree Management Policy 2015-2020 is shortlisted for Sustainable Environment.
Trees make a major contribution to the character, appearance and well-being of South Dublin County. They provide significant economic, social, environmental, ecological and aesthetic benefits to our communities and our urban and residential streets, parks and open spaces. They also enhance biodiversity and play a crucial role in mitigating climate change. South Dublin County Council recognises trees as an important living asset that requires ongoing maintenance, renewal and management for their long-term sustainability and community benefit. 'Living With Trees' provides a framework to inform and support decisions made by the Council on the management and development of a sustainable tree population in the County. 
In My Days - Intergenerational Storytelling Project is shortlisted for Best Library Service.
This project was piloted as part of South Dublin Libraries literacy development programme under the Right to Read Action Plan, which supports literacy development for individuals, families and children as part of a locally coordinated, sustainable and standard approach across the country. 
The project consisted of a series of workshops over a six week period at Ballyroan Library, working with a class group of boys from a local school, along with a group of elderly people from the community, some of whom were grandparents of the children. Over the six weeks of the project, the group were introduced to the art of storytelling through traditional folktales, and the grandparents were encouraged to pass down stories and experiences from their own lives and from older generations. 
South Dublin County Council's Fourth Generation Communications Network is shortlisted for Local Authority Innovation.

In June of 2017, South Dublin County Council launched the fourth generation of its dedicated communications network in County Hall, Tallaght. The Council's control centre provides a communications link between the Council's Traffic / Intelligent Transportation System infrastructure and facilities, parks, depots, playgrounds and other amenities. The communications network currently comprises of over 300 network devices that have deployed 47,000 metres of fibre optic line countywide in the last ten years. This is an innovative system that will connect to this network all current and future CCTV systems deployed by the local authority, with the Council's Traffic Management Centre acting as the central data collection point.