News
SDCC scoops two awards at the All Ireland Community and Council Awards
South Dublin County Council scoops two awards at the All Ireland Community and Council Awards.
Council wins Best Connected Council and Best Community Based Initiative categories
South Dublin County Council scooped two awards at this year's All Ireland Community and Council Awards presented by IPB Insurance and LAMA on Saturday 9 February, 2019. The All Ireland Community and Council Awards ceremony took place in Croke Park Stadium to celebrate the very best in Local Government in Ireland.
The Council was named the Best Connected Council (Communications and Digital Marketing) category for the mydoorstep.ie web portal and won the Best Community Health Initiative for the MedEx Health Programme.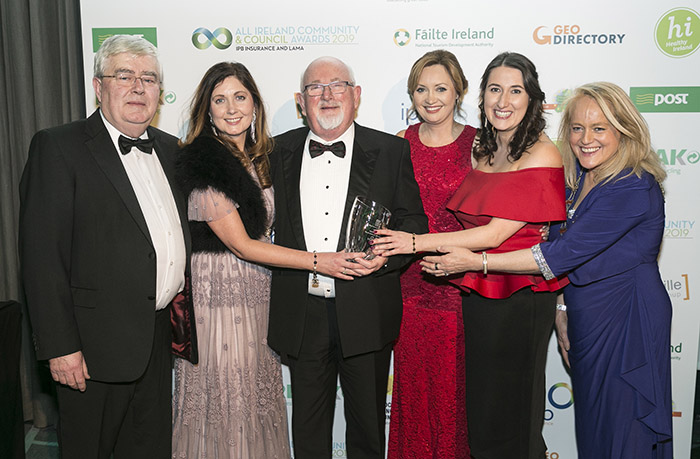 MyDoorStep is a walk-in service centre at its headquarters at County Hall, Tallaght, Dublin 24, which is replicated online at www.mydoorstep.ie. This digital information platform provides buyers with all of the detail needed to make the most informed decision possible when purchasing a home. MyDoorStep combines information on current and planned housing developments in any location in South Dublin County with detail on childcare, education, health, recreation, retail and sporting facilities across the County.
The MedEx Health Programme is a community based chronic illness rehabilitation programme that offers structured and supervised exercise classes to enable people with a diverse range of illnesses to exercise in a safe environment in order to maintain or gain fitness during or after treatment. The aim of the programme is to transform the lives of people with chronic illness through physical activity based rehabilitation.
Mayor of South Dublin County Council, Cllr Mark Ward, said "I am delighted at the news that South Dublin County Council were recognised at this year's LAMA Awards with wins in two categories. These awards highlight just some of the forward thinking initiatives being developed by the Council to address major issues in our society today. I would like to congratulate everyone involved with these projects."
Now in its 13th year, the 2019 All Ireland Community and Council Awards presented by IPB Insurance and LAMA recognise and celebrate community and councils working together. They provide a great opportunity to highlight and celebrate the work done within our communities, and to recognise the phenomenal contribution they've made to our lives. Town, Borough, City and County Councillors across the island of Ireland nominate projects across more than 20 categories that demonstrate the work implemented through unique projects that enhance their local area for the good of the community
< Back