News
Between the Red Lines: Brand new series of literary events
Between the Red Lines, a spin-off series of events from the Red Line Book Festival brings you a brand-new programme of Irish voices this February.
22nd - 28th February, 2021
Visit: redlinebookfestival.ie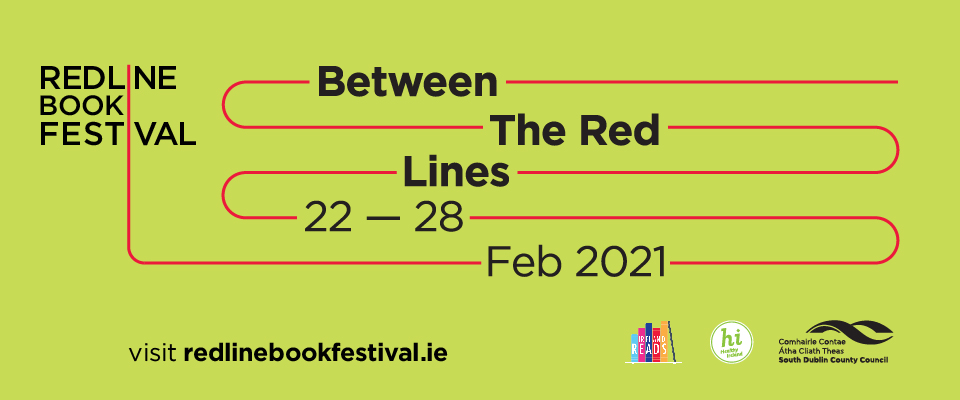 This programme is brought to you by organisers of The Red Line Book Festival and South Dublin Libraries and Arts. Events will take place over seven days to coincide with the Ireland Reads campaign - a new national day to celebrate reading.
Between the Red Lines is a brand new concept that aims to share Irish books– hot off the press – and perspectives from Irish writers; connecting them with readers here in Ireland and around the world and encouraging more people to get reading. The campaign will run throughout February, to coincide with Ireland Reads on February 25th, during the Between the Red Lines series. 
Festival voices this year include: acclaimed novelist, Marita Conlon McKenna, previous Red Line Book Festival Writer-in-Residence and award-winning writer Lisa Harding, journalist and writer, Manchán Mangan, Patricia Forde, Annemarie Ni Churreáin and John Patrick McHugh among others.
Booking information: www.redlinebookfestival.ie and www.southdublinlibraries.ie
Notes:
Between the Red Lines is an initiative of South Dublin Libraries. Taking place online and organised by venues across South County Dublin. It runs Feb 22nd-28th 2021.
The Red Line Book Festival is an initiative of South Dublin Libraries www.southdublinlibraries.ie. Held in October each year, the festival celebrates the very best in local, national and international writing. Taking place in venues across South County Dublin, the Red Line Book Festival provides a programme of events and workshops that appeals to people of all ages and interests, from children to adults, casual readers to bookworms. The 2021 festival runs October 11th - 17th. www.redlinebookfestival.ie
Ireland Reads A new national campaign to encourage as many people as possible to get reading. The campaign will run throughout February, culminating with Ireland Reads on February 25th. Ireland Reads is about promoting the power of reading for enjoyment and wellbeing, combatting lockdown by encouraging everyone, young and old, to get back into the habit of reading and regularly setting aside time to sit and read a book, a poem, a comic, a newspaper, whatever works for them! We want everyone to #squeezeinaread and experience the joys of reading - and to share their experience with family, friends, book clubs, or online. #IrelandReads