News
South Dublin County Council sets out Cycle South Dublin vision
South Dublin County Council has voted to approve the ambitious Cycle South Dublin programme of work at the Council's monthly meeting on Monday, 12 April. The approved programme seeks to progress works on 260km of new and improved cycle lanes across the County.
South Dublin County's population is set to grow to nearly 330,000 people by 2030. This would be an increase of nearly 50,000 people living in the County from 2016. Since 2016, traffic congestion in South Dublin County has grown by 11% on main roads and this will become ever more challenging as the County's population continues to grow.
South Dublin County Council's mission is for cycling to become a credible alternative to a private vehicle. However, to do this we believe we must deliver a well-designed, safe and well-connected walking and cycling network for people of all ages and abilities. Our objectives are to;
Provide a comprehensive and connected cycle network across South Dublin;
Increase participation and make cycling a more achievable mode of transport for all adults and children; and
Improve the cycling identity of the County.  
To this end, South Dublin County Council has prepared an ambitious programme of work, called Cycle South Dublin. This programme reflects the increasing importance of making cycling a realistic and integral part of how people move around the County. There is currently 207km of cycle lanes across South Dublin County. In recent years, the Council has progressed eight active travel projects totalling approximately 21km of new and improved cycle lanes.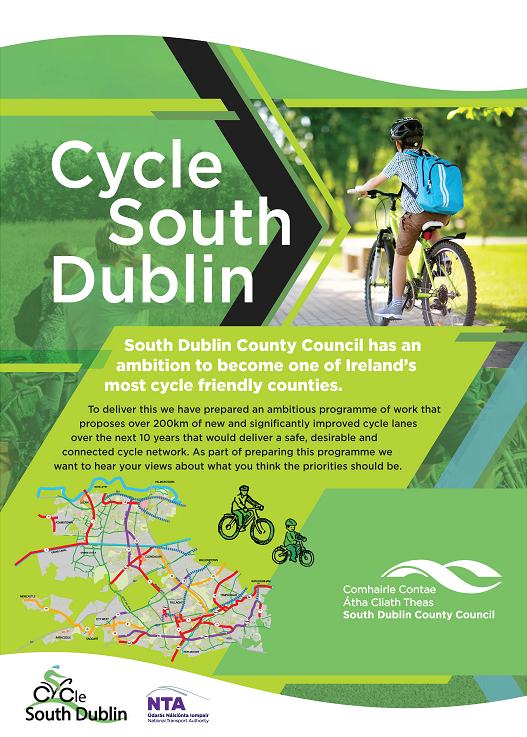 The Council approved 'Cycle South Dublin' programme includes 63 projects that would deliver approximately 260km of space for cycling and walking. This is an increase of nearly 50km from the programme that was publicly consulted on in late 2020. The projects are broken into four Council led phases and include; improvements to the Existing network; and then new schemes to be progressed in the following timescales NOW (within 2 years), SOON (within 5 years) and LATER (within 8 eight years). There would also be a fifth and separate phase of works to be delivered by the NTA via Bus Connects.
SDCC has been working closely with the National Transport Authority (NTA) and the Department of Transport and the NTA has advised that they are prepared to fund the majority of projects included over the next five years This has been demonstrated in their commitment to increase the Council's active travel fund from €8.9m in 2020 to €20.7m for 2021.
Welcoming the approval of Cycle South Dublin, Cllr Ed O'Brien, Mayor of South Dublin County, said, "
"The Council has agreed an ambitious new programme of works with the vision of making South Dublin County one of Ireland's most cycle-friendly counties. Traffic congestion in South Dublin has grown by 11% on our main roads since 2016. This results not only in lost time but also has negative environmental, economic and health impacts. Private vehicles will always have an important role to play in how people move around our County, but we quickly need to offer people high-quality public transport alternatives and cycling and walking are critical to this. This programme will see some 260km of new and improved cycle lanes progressed over the coming years for people of all ages and abilities. I am particularly happy that this scheme will provide safe routes to a large number of schools in the County affording our school goers the opportunity to cycle to and from school and form the habit of cycling as they grow up."
Speaking on the approval of Cycle South Dublin, Mick Mulhern, Director of Land Use, Planning and Transportation at South Dublin County Council said, "
"We are delighted that the Council has agreed the Cycle South Dublin programme. As part of the public consultation, it was clear there is significant local support for this scale of work across the County. The Councillors have now given us a clear steer that they want us to progress with our mission of providing people with a well-connected, and safe cycle network that offers people a credible alternative to using the car. We will now be turning our attention to progressing the design and delivery of these projects."
Current Progression of Cycle South Dublin
South Dublin County Council (SDCC) is already making progress on delivering the programme.  We are currently progressing works on the following active travel schemes. The following schemes are already on-site, or are due to commence on site shortly, but had been paused due to COVID restrictions.
Dodder Greenway. This is a 14km Greenway that runs from the foothills of the Dublin Mountains at Kiltipper to the eastern County boundary with Dublin City. To date, SDCC has delivered three new pedestrian and cycle bridges. They will shortly be starting works on new links within the Dodder Valley, and are making improvements to several of the streets in the surrounding area to improve access. As part of this, SDCC is holding a public consultation for one such improvement on the Dodder Lower Road in Rathfarnham.
New streets at both Celbridge Link Street in Adamstown and Belgard North Link Street in Tallaght. Both new streets will provide improved pedestrian and cycle access into key regeneration lands from surrounding areas in South Dublin.
Monastery Road. Is an active travel scheme that will deliver improvements for cyclists and pedestrians on a key approach road into Clondalkin Village.
Grange Road and the N81 Jobstown Junction schemes. Contractors have been appointed for both schemes and are waiting to start works on site once the current COVID restrictions are lifted. Both schemes will deliver new walking and cycling improvements at both locations.
In addition to those schemes that are on-site, SDCC is also making progress on several new schemes across the County, which are each at varying stages in the process for example feasibility, pre-planning, public consultation, or detailed design:
Wellington Lane is a 3km street, where SDCC is currently trialling improvements on-site and are using feedback from this trial to inform the final design that they will take forward.
Lucan Canal Loop is a 4.5km section of new cycle-way that would link the Grand Canal to the River Liffey in Lucan within South Dublin, and which in time, would link onwards to the Royal Canal. This scheme is currently out for informal public consultation until April 2021.
Dodder Lower Road, is a scheme to support improved access for active travel into the Dodder Valley Greenway. This scheme is currently out for Part 8 public consultation.
Tallaght Town Centre public realm improvements is a scheme to improve the public realm and provide two new public spaces within the Tallaght Town Centre. Part 8 approval is in place and SDCC is now working towards appointing a contractor to deliver the works.
There are also sections of the existing road network where quick safety improvements can be delivered to make it safer for people to walk and cycle. These works are generally delivered through the quick installation of extruded curbs, bollards, lines and signs. SDCC has already completed schemes on Wellington Lane, and Fortunestown Drive and are progressing designs for schemes on Templeville Road, Castletymon and Limekiln and Whitehall Road West.
Public Consultation
In recognition of the importance of building support and buy-in, the proposed programme was presented to the full Council in November 2020. This was then followed by a public consultation exercise that ran from 17 November to 18 December 2020.
During this public consultation, SDCC received 437 responses with 77% of responses submitted by people who live in the County. 83% of responses were broadly supportive of the proposed programme, while only 5% of responses contained negative views of the proposed works.
There was some 1,556 different comments and suggestions raised within the submissions. These comments were spread across 10 categories addressing issues such as; how can the Council design a network that is safe and segregated so that it will enable people of all ages to cycle; how can SDCC strike a balance between the needs of all road users; how will SDCC fund the works and ensure timely delivery of the programme. Alongside these broad comments, the Council also received multiple suggested amendments and additions to the routes proposed.
South Dublin County Council has been hugely encouraged by the scale of responses and the general level of support for what they are proposing to deliver.