News
Gender representation in the Council
Under-representation of women occurs across many professions and is not just a local or national issue in political life. According to the UN, women are under-represented in local government globally with only 36% of local elected members being female. In Ireland, the national figure is 23% so the country is well below the global average. South Dublin County Council itself is above the national and global average with approximately 39% of current elected members being women.
Efforts are being made by the Council to raise the number of women going for the local election in 2024. A 'Women in Politics' campaign is soon to launch across the Council's social media channels whilst research into gender representation in the 2019 local elections is also being carried out. But it is not just in the Council chamber that increased gender diversity is taking place. In the workplace, changes are either at an advanced stage or being pioneered by women in fields typically dominated by men.
The Council has plans to increase gender representation in those going for election in 2024 and for employment in typically male-dominated roles.
Due to the volume of services provided by South Dublin County Council, staff can work across several departments and on numerous projects or areas. While the Council is well represented in office-based roles in terms of gender equality, around 53% of middle management roles are currently held by women, for example, more can be done elsewhere to encourage applicants and career progression for women in traditionally male-dominated roles.
To highlight some of the women leading the way in the Council around changing perceptions of what women can do, we spoke to Maria Delaney a craft gardener at Grange Castle depot, Michelle Nolan, a Foreman of Works, and Angela Donegan, a general operative (GO) in our drainage section.
Maria decided on a career change ten years ago and took a course with the Botanic Garden that led to joining the Council as a craft gardener in 2019. She is often approached by women asking how she started in the role and feels there is a real appetite for this type of work. Maria feels that working outdoors with the Council, doing physical work that is in tune with nature, where she can see the benefits to the public and feels like she is contributing is the best thing she's ever done work-wise. She says her experiences have been really good with her work colleagues and with the public with the only attitude change needed being at job interview stage by companies who feel outdoor work is more suited to men.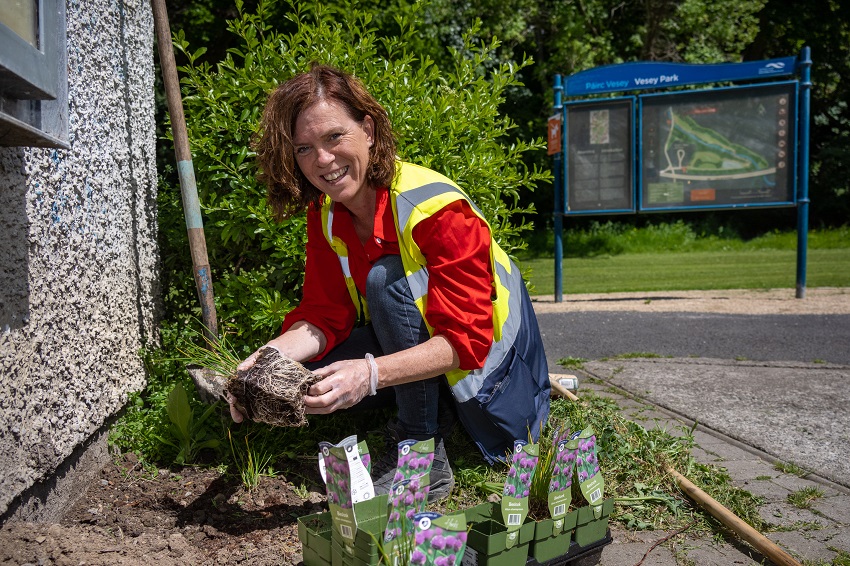 Michelle Nolan - Foreman of Works
Michelle started in the Council in 1996 as a craft gardener in Tymon Park and became the Council's first female Foreman of Works ten years ago. She is currently studying Environmental Management with Sligo IT and is responsible for all the parks, pocket parks, roundabouts, grass cutting, bulb planting and the objectives of the Pollinator Programme which she strongly believes in. She loves her job and thinks more women should be encouraged to see it as an option especially if they love nature and the environment.
Angela transferred into drainage from being a GO in Tymon Park and found the first year hard with the change to the type of work she was doing and with being in a new environment. She thinks a sense of humour and hard work is essential and thinks she may be the only woman working in drainage for a local authority in Ireland. She cites practical changes that can be made to attract more women into these roles, such as around equipment used, something Maria also agrees with. Angela has created a photo album of herself doing work in rivers and drains for her granddaughters to know any job they would like to do is open to them.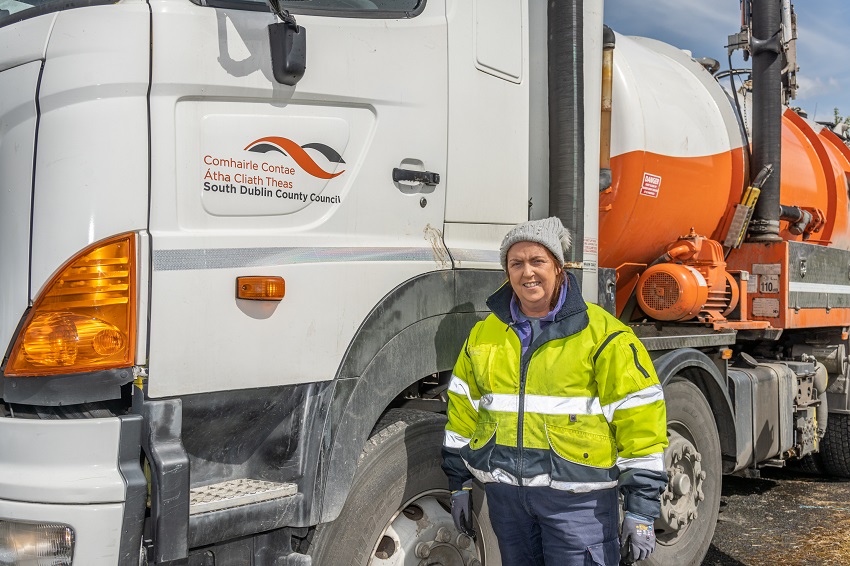 Angela Donegan, General Operative in drainage
While Maria, Michelle and Angela are outliers in positions typically dominated by males in the Council and societally, by highlighting their stories we would hope to attract more female candidates to those roles when they are advertised. Increasing diversity across all roles and sections of the Council is important to enable us to better reflect the County we serve and improve the work we do.