Saggart Village
Saggart Village
Saggart is one of the 9 traditional villages of South Dublin County Council identified for the Villages Initiative. The works involved in this contract were intended to improve the general aesthetics of the village, through public realm improvements for all users, to encourage the use of the villages and increase walking and cycling.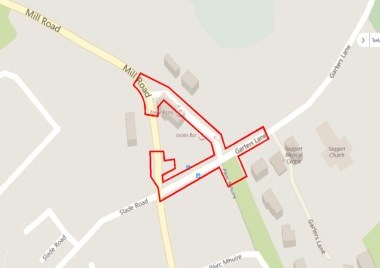 What we have done
In 2014, South Dublin County Council embarked on a programme of Village Improvement Schemes. There are nine traditional villages in the county. To date, projects have been completed in eight of them, the most recent being Saggart Village. This project was passed by our elected representatives under the statutory Part 8 process in July 2015. Detailed design was undertaken to include full consultation undertaken with Saggart Village Residents Association (SVRA) and the local traders. The tender for the works was awarded in early 2019 with works commencing on site in June 2019. The contract was completed in mid-2020, pending delays experienced due to COVID.

The project area included Mill Road, Mill Lane, Páirc Mhuire, and Garter Lane, locally known as Main Street. The key aspects delivered by the scheme are below;
A new two tone civic plaza was created at the junction of Pairc Mhuire and Main Street that provides a focal point for community events. Seating and planting have been provided to give residents and visitors a place to linger and relax within the village setting. Tree planting, new street furniture and the use of high spec materials give a very high quality finish and helps to promote a sense of pride within the community. Underground infrastructure has been put in that will enable the plaza to be utilised for festive lighting at Christmas, further enhancing the community spirit and making it a usable community place.
A major aspect of the scheme was to improve connectivity throughout the village for the community. This scheme promotes sustainable transport and encourages the community to walk and cycle to the shops, schools and residential areas through better infrastructure. This is best demonstrated in the new pedestrian crossing point at Jacob's pub, the upgraded traffic signals at the crossroads and the works on Mill Lane. Mill Lane is a one-way street that has a high pedestrian footfall but suffered from poor pedestrian facilities and illegal parking creating obstructions. As part of the scheme the footpaths were widened and paved and the carriageway was narrowed and traffic calmed which resulted in a quieter, safer and more enjoyable place to walk. Bollards were installed to ensure the footpaths would be kept clear and usable for wheelchairs and buggies.
16 parking spaces were retained on Main Street to ensure that retailers could still benefit from passing trade. A very important aspect of the scheme was that it took into consideration the needs of all stakeholders and found the right balance for all.
Other works that were carried out as part of the scheme;
Undergrounding of a number of overhead services which cleared the skyline and increased the sense of space
Removal of unnecessary street furniture which was cluttering up the village and detracting from the area
Resurfacing the road and upgrading the drainage to ensure that the village infrastructure was at an acceptable standard