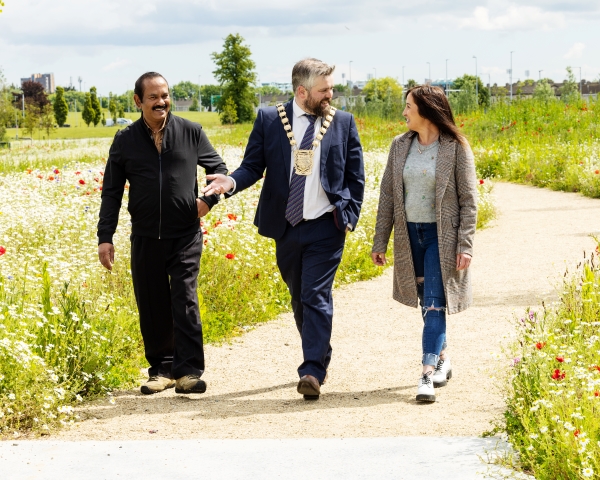 Official opening of the N81 Jobstown Junction Walking and Cycling Scheme.                                                                                                Pictured: Cllr Baby Pereppadan, Mayor Peter Kavanagh & Cllr Louise Dunne.
Benefits of Active Travel
Active Travel Benefits - Health Benefits on a recent long term health study done in the Dublin Metropolitan Area .Walking and wheeling prevents 2,731 serious long-term health conditions each year, and the physical benefits of walking prevented 547 deaths annually.
Cycling Health Benefits- Cycling in Dublin Metropolitan Area prevents 476 serious long-term health conditions each year. In Dublin Metropolitan Area the physical activity benefits of cycling prevents 42 early deaths annually.
Environmental Benefits- More people walking improves air quality by 630,000 Kg of Nox and 25,000kg of particulates. 79% of Residents agreed that their air is clean in their local area. Walking and Wheeling helps reduce the impact of our Climate Crisis with 69,000 tonnes of greenhouse gas emissions saved annually.
Cycling Environmental Benefits- 24,000 Tonnes of greenhouse gas emissions saved annually, equivalent to the carbon footprint of 340,000 people taking flights from Dublin to London Heathrow. Transport now accounts for 20% of the Republic of Ireland's greenhouse gas emissions, of which the main sources are the use of petrol and diesel in road transport.  Between 1990 and 2019, transport emissions went up by 137%, while overall emissions went up by just 10%. Cycling can also help manage increases in traffic congestion.
The number of people walking and cycling reduces significantly for journeys over 2km. Whilst understandable for walking trips, the number of cycle trips for short journeys up to 5km should be much higher. According to Census 2016 the table below illustrates the percentage of distance travelled by walking and cycling up to 20km within the South Dublin area.
Economic Benefits- In Dublin Metropolitan Area, the net annual economic benefit for individuals and society from all walking and wheeling trips is  €796 Million, Of this total, €169.8 million per year is from people with a car choosing to walk for transport
Cycling Economic Benefits- In Dublin Metropolitan Area, the net annual economic benefit for individuals and society from all cycling trips is  €311.4 million of this total €162.1 million per year is people with a car choosing to cycle for transport.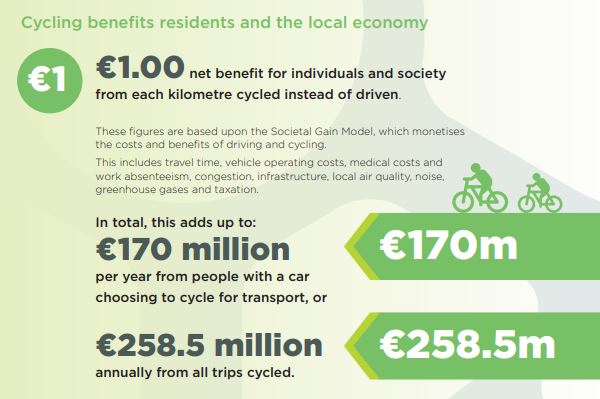 Why don't people cycle? - The table below highlights the primary reasons people choose not to cycle. The three most common reasons include: Cycling is not safe (33%), the poor weather (24%) and not confident cycling (18%).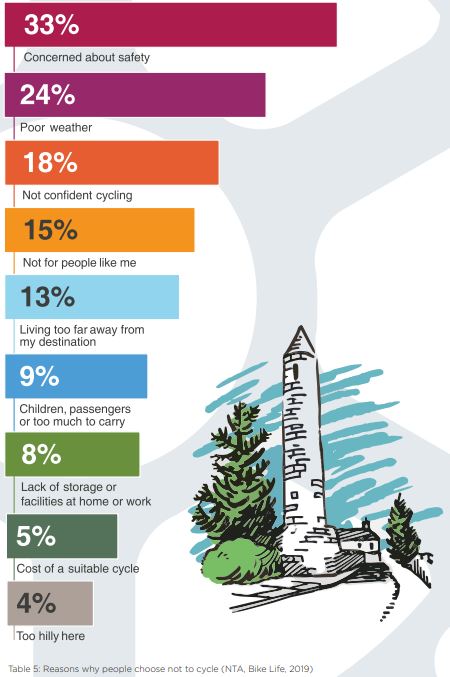 What has the Council done?
In South Dublin today there is nearly 210km of existing cycle lanes. New cycle lanes (as segregated cycle lanes and/or
alongside new roads) at:
Grand Canal Greenway at 10.5km
The Grange Greenway at 600m
Tallaght to Templeogue walking and cycling route at 1.7km
Scholarstown Road walking and cycling route at 350m
Willsbrook Road walking and cycling route 2.1km
Bawnogue permeability route at 900m
Monastery Road walking and cycling scheme at
650m
R120 new Nangor Road to Adamstown with cycle lanes at 6.6km.
In 2021 the Council spent 10.1 Million on Active Travel infrastructure and has a budget of €18.1 million for 2022. The Council has a dedicated team of 6 Executive Engineers and Active Travel Officers to project manage each project on the Cycle South Dublin Programme.
Public Consultation - Improvements in how we interact and consult.
The delivery of successful and desirable cycle infrastructure requires input from and knowledge from local people and Councillors. To this end the Council committed to the following levels of public engagement in the design and delivery of Cycle South Dublin (CySD) schemes:
Face to face meetings
Direct outreach to businesses, schools, and sports groups
Focus groups
Online Consultation portal
Leaflet drops, on street posters and notices
Computer generated visualizations, 3D fly throughs, photomontages
We have had over 1,030 Submissions and Surveys submitted online through the consultation portal over the last 12 months for our Active Travel Schemes.
Project Updates - Progress on 30 projects with significant construction on: 
Dodder Greenway
Grange Road
N81 at Jobstown
Monastery Road
At the request of the National Transport Authority (NTA) we are working on providing a series of "Rapid Deployment Schemes", these will be grouped where possible to form discrete local networks and will inform future permanent designs for schemes at these locations and elsewhere across the CySD Network.
Bike Parking Rollout 
SDCC received funding from the NTA for Bike Parking and opened our applications in the summer of 2021 to Schools and Sports Clubs, a contractor was appointed in November 2021 to manufacture Bike Racks. The start of Jan 2022 we began the process of supplying and installing Bike Stands across South Dublin County Council based on the applications received. To date we have installed Bike Stands in over 40 sports clubs/Schools and 5 public parks across Tallaght, Knocklyon, Templeogue, Rathfarnham, Bohernabreena, Clondalkin and Lucan. We have created over 400 new bike parking spaces and have seen the uptake in cycling increase at a lot of these locations where there were no facilities previously in palace. Stage two of our Bike Parking roll out will commence in mid-2022 and we aim to add further to our public parks/spaces and colleges and create another 200 spaces by the end of October 2022.