On 26 May the Mayor of South Dublin County, Cllr. Peter Kavanagh and the Dún-Laoghaire Rathdown County An Cathaoirleach Cllr. Lettie McCarthy turned the sod in Griffeen Valley Park on the first of five Dublin Urban Rivers LIFE Project wetlands.
The Chief Executive of South Dublin County Council joined the Mayor and An Cathaoirleach to mark the beginning of this exciting phase of the project where the construction of the nature-based wetlands will not only fulfil the objectives of the LIFE project but also objectives of the River Basin Management Plan 2022–2027, Water Framework Directive, South Dublin County Council Climate Change Action Plan, Floods Directive, and draft Biodiversity Plan.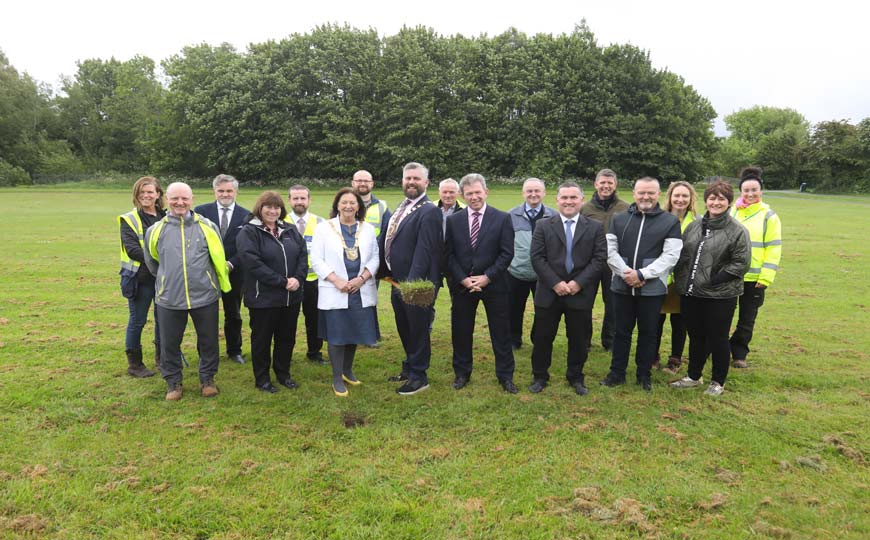 The Mayor noted that "this wetland and those planned for Kilnamanagh, Dodder Valley Park and Tymon Park will transform the areas in which they are located from uniform amenity grassland into vibrant, aesthetically pleasing, and dynamic habitats where biodiversity thrives year-round".
An Cathaoirleach confirmed that Dún-Laoghaire Rathdown "will be using the detailed roadmap the DURL Project is developing to create an ICW from start to finish (including information on Planning, Engaging with Stakeholders, Design, Tenders and Construction). This roadmap will be a very useful tool to help other local authorities construct their own ICW's".
The construction of the wetlands will support the DURL projects ongoing door-to-door assessment work, where the project team has assessed stormwater quality at 3,820 houses. Washing machines, kitchen sinks and dishwashers have been identified as the most common misconnected appliances, with the wastewater from these appliances being discharged to the local river. The reception at the doorstep has been overwhelmingly positive, with misconnection repairs ongoing and 76% repaired since the commencement of the door-to-door work in May 2022. This demonstrates to the project team the public appetite for enhanced urban water quality and environmental improvement projects such as the LIFE project. Further information on the project is available at dublinriverlife.ie.