News
Tender process opens for exclusive naming rights of Tallaght Stadium
 South Dublin County Council, in conjunction with Core Sponsorship and Tallaght Stadium, has opened a tender process for the naming rights of the stadium.
This unique opportunity will place the winning tender application at the heart of a community stadium which is home to Shamrock Rovers and both the FAI Women's National Football team and Men's Under 21 Team. The venue also hosted the recent FIFA Women's World Cup 2023 Qualifier between the Republic of Ireland and Finland, resulting in Ireland securing a play-off for the World Cup for the first time. It also hosted Shamrock Rovers recent game with Djurgårdens, and will feature upcoming encounters with Gent and Molde as part of the UEFA Europa Conference League fixtures.
The successful tenderer will benefit from a multitude of commercial options including substantial branding opportunities, extensive editorial mentions, TV broadcast and digital media exposure, ticketing and venue rental opportunities.
Funded by South Dublin County Council, approximately €11.5 million is currently being invested in the expansion of Tallaght Stadium, which is the only municipal stadium of its kind in Ireland. A new North Stand, which is under construction, will increase the overall capacity to 10,000+ and will further cement its position as a top-class arena which consistently hosts elite sporting events. The sod-turning for the new North Stand took place in June and the facility is due to be completed by July 2023.
The new development will cement Tallaght Stadium's UEFA Category 4 status, allowing for the hosting of all UEFA competitive fixtures, including Internationals, UEFA Champions League, UEFA Europa League and UEFA Europa Conference League games.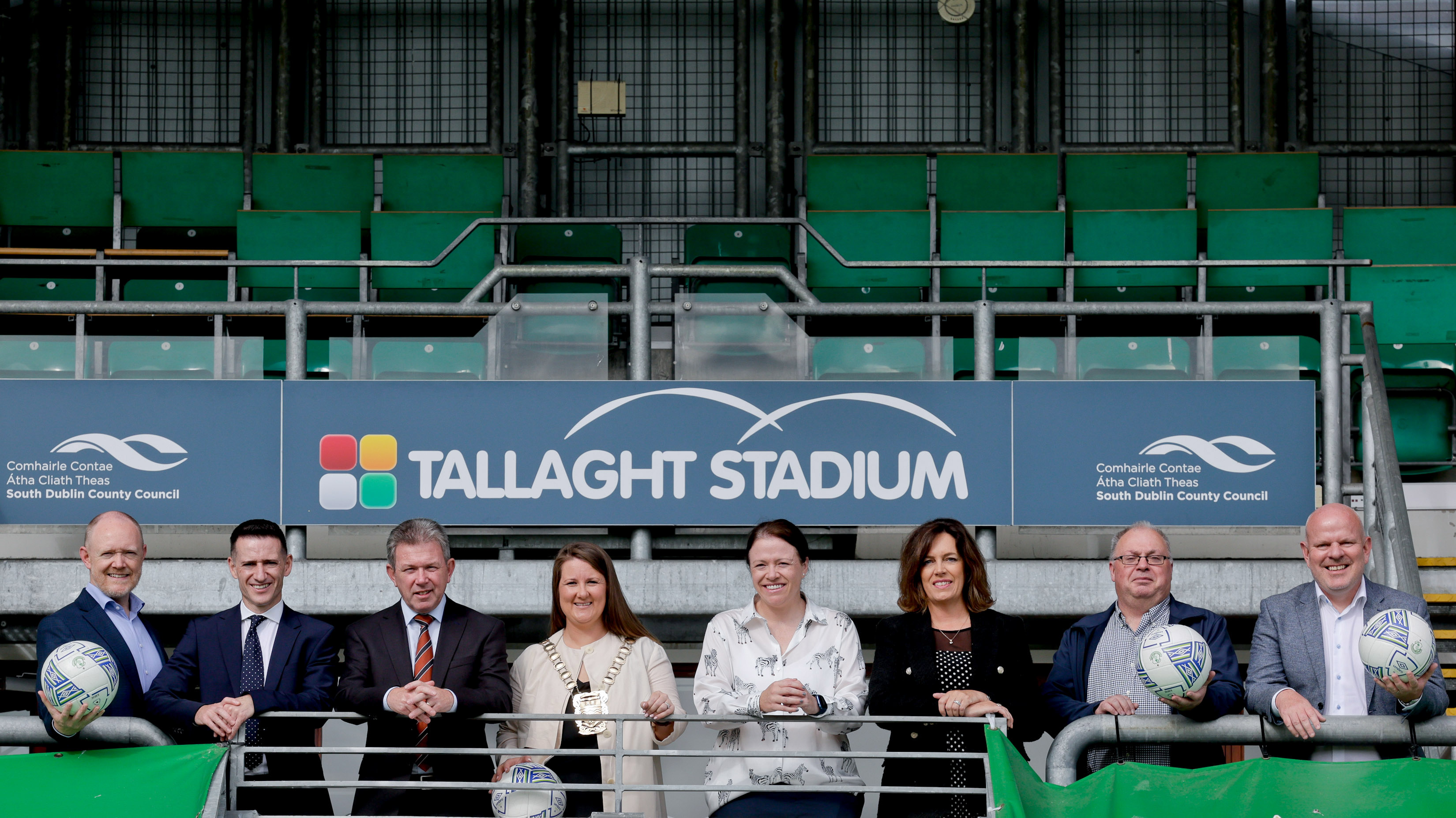 The stand has been architecturally designed to the highest possible standard with the under croft containing new commercial units, part of which Shamrock Rovers will occupy. With stadium seating and temporary on-field seating, the venue could accommodate up to 20,000 people and therefore South Dublin County Council also intends to use the stadium as a major concert and event centre, with the intention to host the first large-scale concert over the next 18 months.  
As well as the new North Stand, major refurbishment work is also taking place across the West stand corporate areas to provide revamped conference and meeting room facilities, as well as enhanced amenities for media and sporting fixtures. Improvements are also being made to the Accessible Seating areas in the South Stand, while a changing places facility is also being installed.
The delivery of the North Stand at Tallaght Stadium forms part of the current investment of over €80 million by the Council in a range of infrastructure projects underway in Tallaght, such as the delivery of a new Heritage Centre, the Tallaght Innovation Centre, now under construction, the Tallaght District Heating Scheme, as well as a major public realm enhancement programme for Tallaght Town Centre.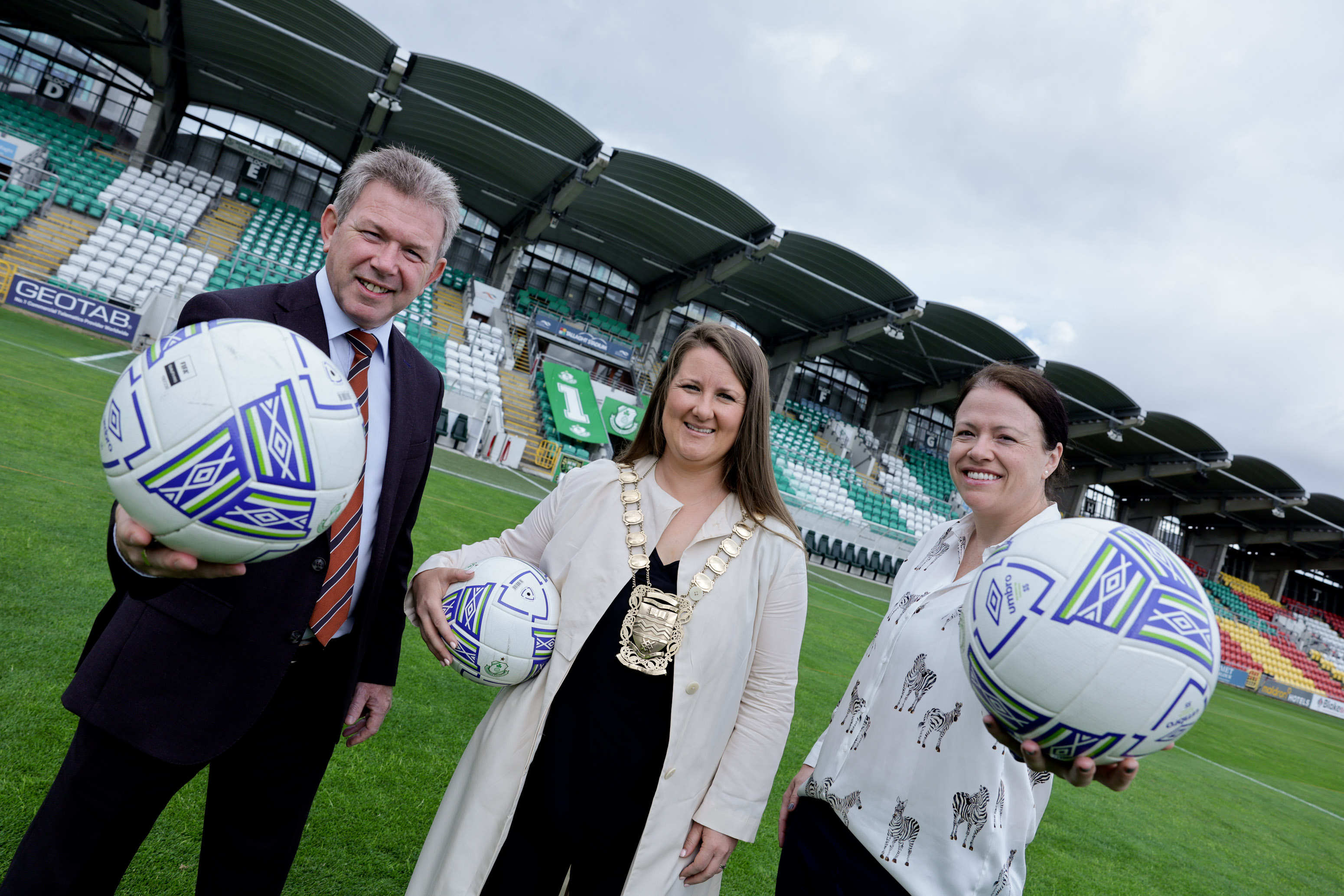 The Mayor of South Dublin County, Cllr Emma Murphy, said: "Today is a landmark day in the development of Tallaght Stadium as we open the tendering process for naming rights. This is an exceptional opportunity for businesses looking to be an integral part of a thriving community and also be a significant supporter of sport in Ireland. With the wide range of events to be held at Tallaght Stadium in front of large international and domestic audiences, we're really looking forward to welcoming a new partner on board to work with us to maximise the most of this new opportunity for all parties."

Daniel McLoughlin, Chief Executive of South Dublin County Council, said: "This significant commercial opportunity represents another exciting milestone in the development of Tallaght Stadium. The venue has proved to be an incredible success within South Dublin County and in Tallaght, serving as a unique identifier, source of pride and focus point for the wider community. The naming rights to the Stadium represents a unique opportunity for a new commercial partner to be right at the heart of a thriving community which will benefit directly with the reinvestment of funds arising in local sporting and community projects."

Noel Martyn, Intelligence Director at Core Sponsorship, said: "Tallaght Stadium is one of the most interesting naming rights opportunities to enter the market in recent years. Home to Shamrock Rovers, the FAI Women's National Football team and Men's Under 21 Team, the stadium engages with a large cohort of the public – both those who attend matches at the venue as well as those who watch broadcasts at home etc. The naming rights opportunity offers a significant range of assets and benefits, including coverage of the named stadium on broadcast, print and digital channels, stadium signage, exposure on TV broadcasts, venue rental, ticketing etc. We expect there to be much interest from potential sponsors and are proud to be working in partnership with South Dublin County Council and Tallaght Stadium on this venture."
Click link below for more details on how to engage with the tender process:
https://tallaghtstadium.ie/sponsortallaghtstadium/
Image 1 - pictured left to right:
Ralph McGarry, Administrative Officer, County Promotion Unit, SDCC
Jason Frehill, Director of Services, Economic Enterprise and Tourism Development, SDCC
Daniel McLoughlin, Chief Executive, SDCC
Mayor of South Dublin County Council, Cllr Emma Murphy
Nicola Coffey, Stadium Manager, Tallaght Stadium
Laura Leonard, Senior Executive Officer, SDCC
Des English, Administrative Officer, Property Management, SDCC
Noel Martyn, Intelligence Director, Core Sponsorship.